For the second year, scientists from Arizona State University's Biodesign Institute and artists from the Herberger Institute for Design and the Arts have partnered for one-night-only performances of "Science Exposed: Bringing Science to Life through the Arts" that combine creativity, sound, dance and scientific curiosity.
Nine scientists have teamed up with 18 students to create 13 innovative artistic collaborations that explore the effects of Lyme disease, how opportunistic germs can exploit the human body, and discussions of human behavior, sex and AIDS, among others. The teams have been practicing the past few weeks at the Biodesign building.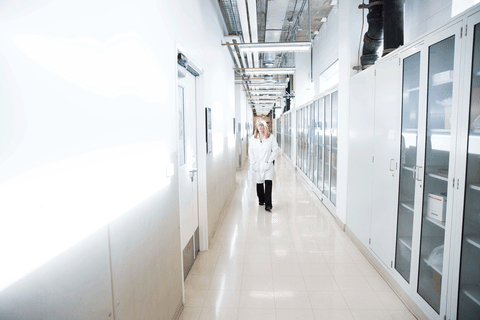 ASU researcher Christine Lewis. Image by Deanna Dent/ASU Now

Dance legend, choreographer, MacArthur Fellow and Herberger Institute Professor Liz Lerman has brought her students to the Biodesign laboratories to create an artistic experience that illustrates research and scientific work.
"We're so happy to partner with Biodesign for a second year as we move forward in exploring the relationship between pedagogy, research and the interdisciplinary practices of art and science," Lerman said. "After nine generous and curious scientists told us about their work, the students selected one to partner with and then went on to work together to make something that is partly legible, partly personal and partly informative."
These performances, which will be showcased all throughout the Biodesign building, aim to spur creative thought and cross interdisciplinary borders, and to communicate and educate the public on different ways of seeing the issues of our time.
One such collaboration called "AIDS: Life-Altering, Not Life-Limiting" explores what people can do to change their behavior when it comes to discussing sex. School of Life Sciences Director Bert Jacobs will be working with students Muneera Batool and Tiffany Velazquez. Jacobs is also a professor and member of the Biodesign Center for Immunotherapy, Vaccines and Virotherapy. 
As an HIV educator, Jacobs said it's really important to change people's behaviors to reduce the risk of getting HIV. But "teaching doesn't always get people to change their behaviors," he said.
"Using the arts in a visceral way to tell this message and working with artists to convey this information is important," Jacobs said. "It's been great working with the artists."
Batool and Velazquez knew from the beginning that they wanted their work to destigmatize AIDS and to question our behavior toward patients who have been living with it.
Video by Ken Fagan/ASU Now
"For the people without AIDS, it's important to tell them what behavior changes they can have to save themselves from getting infected," Batool said. 
Another collaboration, "Sal's Genetic Tweekery," features dancers Elle Spinelli and Quinn Mihalovic working with Cheryl Nickerson, a School of Life Sciences professor with the Biodesign Center for Immunotherapy, Vaccines and Virotherapy. The piece explores how salmonella reacts, changes and survives in different environments within and without the human body.
"We unravel how we have interpreted the information about salmonella from Cheryl, while utilizing gestures, text and other elements to give our best explication of the amazing and innovative work the Nickerson lab is doing," Mihalovic said.
The scientists participating are Athena Aktipis, Christine Lewis, Bert Jacbos, Carlo Maley, Grant McFadden, Cheryl Nickerson, Scott Sayers, Pamela Winfrey and Arvind Varsani. The students participating are: Mac Allen, Muneera Batool, Coley Curry, Taylor Ford, Geneva Foster Gluck, Tasha Love, Manon Goodrich, Tatiana Jacques, Emily Laird, Tremayne Manahane, Sumana Mandala, Lauren Mark, Quinn Mihalovic, Neda Movahed, Matt Nock, Mary Raunikar, Elle Spinelli and Tiffany Velazquez.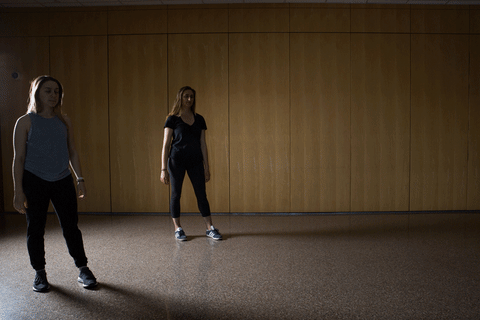 Dance students and ASU researcher Scott Sayers. Image by Deanna Dent/ASU Now

Part of the "Science Exposed" performance includes an excerpt from "Still Crossing," which was a commission from "Dancing in the Streets" for the centennial celebration of the anniversary of the Statue of Liberty in 1986.
"Exploring the unknown is the tie that binds science and the arts," said Dianne Price, Biodesign Institute director of communications, who along with Lerman launched this novel program last year. "Connecting intellect to emotion, sound, movement and sight can spur innovation and creative thinking. Researchers who have participated in past artistic pursuits reported that it opened their mind to new ideas and explorations."
If you go ...
The "Science Exposed" performances are free and open to the public. They will take place on Wednesday, April 4, at the Biodesign Institute. Performances will begin at 5 and 7 p.m. After the 7 p.m. performance, there will be a wine-and-cheese reception at the James Turrell Air Apparent Skyspace sculpture, where Joe Blattman will lend his talent with flamenco guitar music.
RSVPs are requested. RSVP at asuevents.asu.edu.
Top photo: Dance student Taylor Ford practices her dance based on the photosynthesis research of ASU graduate assistant Christine Lewis during preliminary rehearsals at the Biodesign Institute building on March 21. Photo by Deanna Dent/ASU Now